Thanks to Book Cupidity for coming up with fun meme. I'm copying the original instructions below:
Let's list favorite old (or older) movies. the list can be long or short, with a narrative or no, anything goes. The perimeters is that it has to have been made prior to 1980, I sort of arbitrarily picked this number, and sort of didn't -- for the young whippersnappers, Star Wars is the equivalent to some of our black and white favs. Plus, I think cinema in the 80's had a different feel.
So, tell me some of your favorites! Maybe we will discover new great flicks and new friends. Let's tag the post so that we can search it over the weekend - "Fav old movies'. I will also use the tag 'BL Round Robin"
OK, task accepted. This is my list:
Charade
Arsenic and Old Lace
The Philadelphia Story
I could go on listing Cary Grant movies, but you got the idea already.
Lawrence of Arabia
Witness for the Prosecution
My Man Godfrey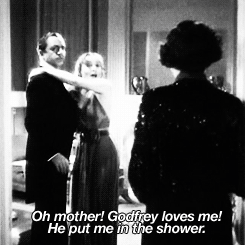 Oh, man, I'm sure I could continue this list for quite some time....
What are some of your treasured films?